The Adventures of the Sailing Vessel
Final Straw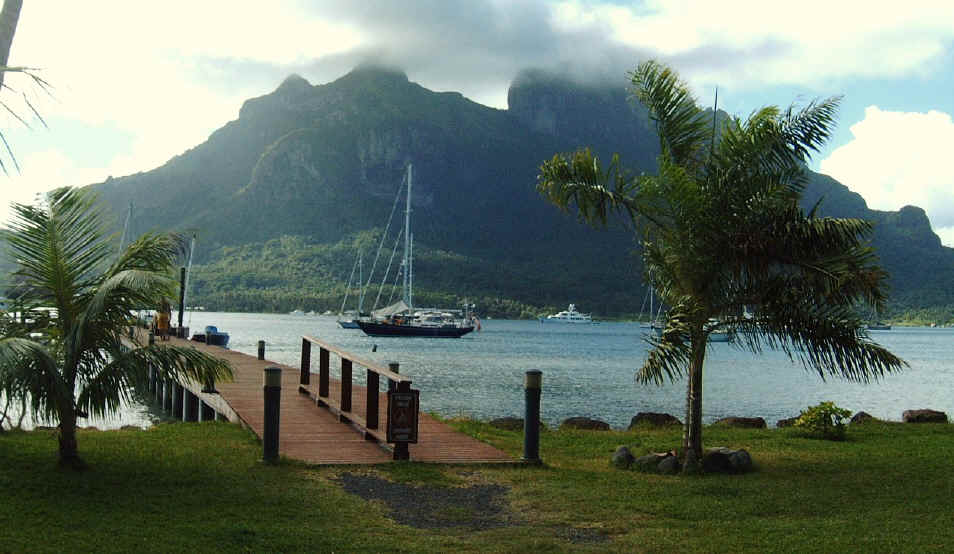 Final Straw anchored in front of Bloody Mary's in the lagoon at Bora Bora on the 2001-2008 Pacific crossing
On January 15, 2001, we departed San Diego and headed southeast to Puerto Vallarta, 1200 nautical miles away. This was the first leg of a 2000 mile trip around Pacific ports of Mexico and the Sea of Cortez. It was our first long term cruise offshore and we thoroughly enjoyed the beauty of the remote places we were able to visit on the boat. After getting our feet wet, so to speak, we decided to push on to see more of the world by sea. On March 24th 2002, we departed Mexico bound for New Zealand and a Pacific Ocean crossing. The first leg of this passage was, by far, the longest. It was 2800 miles and took us 17 days to sail from Puerto Vallarta, Mexico to Hiva Oa in the Marquesas Islands. We stayed in the Marquesas a month before moving on to the Tuamotu Group and the Society Islands of French Polynesia. By late July, our French visa was about to expire, so, we left Bora Bora and made stops at the Cook Islands, Beveridge Reef, Niue and Tonga. We enjoyed Tonga so much we stayed there for two months. On October 27, 2002, we departed Tonga for Opua in the Bay of Islands of New Zealand with an overnight stop at Minerva Reef along the way. We arrived in New Zealand on November 5, 2002 after sailing over 8000 miles. It was eight months of great adventure sailing along the Coconut Milk Run of the South Pacific! We spent the year 2003 just enjoying New Zealand. We traveled all over the North and South Islands and watched the Americas Cup racing, the holy grail of yachting. In early 2004, we sailed Final Straw around the islands of the Hauraki Gulf. By April, we headed back north to Opua and waited there for a weather window to Fiji. All told, the boat was in New Zealand for 18 months. On May 15th, we set sail on a 1200 mile, eight day passage to Savusavu in Fiji. We arrived the morning of May 22, 2004. We stayed in Fiji for two months before sailing on to Vanuata where we spent another two months in this remote area. On September 27th, we departed Vanuatu bound for New Caledonia where we stayed for another month. Then, on October 23rd we left Noumea, New Caledonia bound for Australia. This was a five day, 800 mile trip. We arrived in Bundaberg, Queensland, Australia on October 27, 2004. After a week's stay in Bundy, we sailed the short distance south to Mooloolaba on the Sunshine Coast. We spent the 2004 holidays at home in the States and then returned to Australia in March 2005. From March to early September, we toured Australia mostly by land. We returned to America on September 6, 2005 and we were home again for the holidays. In January of 2006, we returned to Australia and toured the States of Tasmania, Victoria and New South Wales. In June 2006, we sailed north along the Queensland coast to the Whitsunday Islands and the Great Barrier Reef. We really enjoyed sailing these beautiful waters. By October 2006, cyclone season was approaching and we headed back south with stops in Mackay and Bundaberg. We left Final Straw in Bundy and went home for the holidays. We returned to Australia in late March 2007 and waited for a weather window to sail south to Mooloolaba. We arrived back in Mooloolaba on April 17, 2007 and stayed on the beautiful Sunshine Cost for a month. Then, we sailed south to Moreton Bay and on to Brisbane and berthed on the Brisbane River just a few miles from the Central Business District. We had planned to load Final Straw aboard Dockwise Yacht Transport's brand new ship, Yacht Express, on her maiden voyage to Ensenada, Mexico. Doing this, rather than sailing back, saves a lot of wear and tear on both boat and crew. The voyage was scheduled to leave in July 2007. Unfortunately, Dockwise was forced to cancel the voyage when steering problems came up during sea trials. Our departure from Australia was rescheduled for January 29, 2008 and she arrived in Ensenada on March 2, 2008. On March 4th, we sailed her the 66 nm north to San Diego and finally returned home after seven years of sailing around ports of the Pacific. But, no worries, the adventure will continue again after a respite home! The contents of this website tell the story of our adventure to date.
"There's never a wish better than this, when you only got 100 years to live!"
from the song 100 Years by John Ondrasik of the group Five for Fighting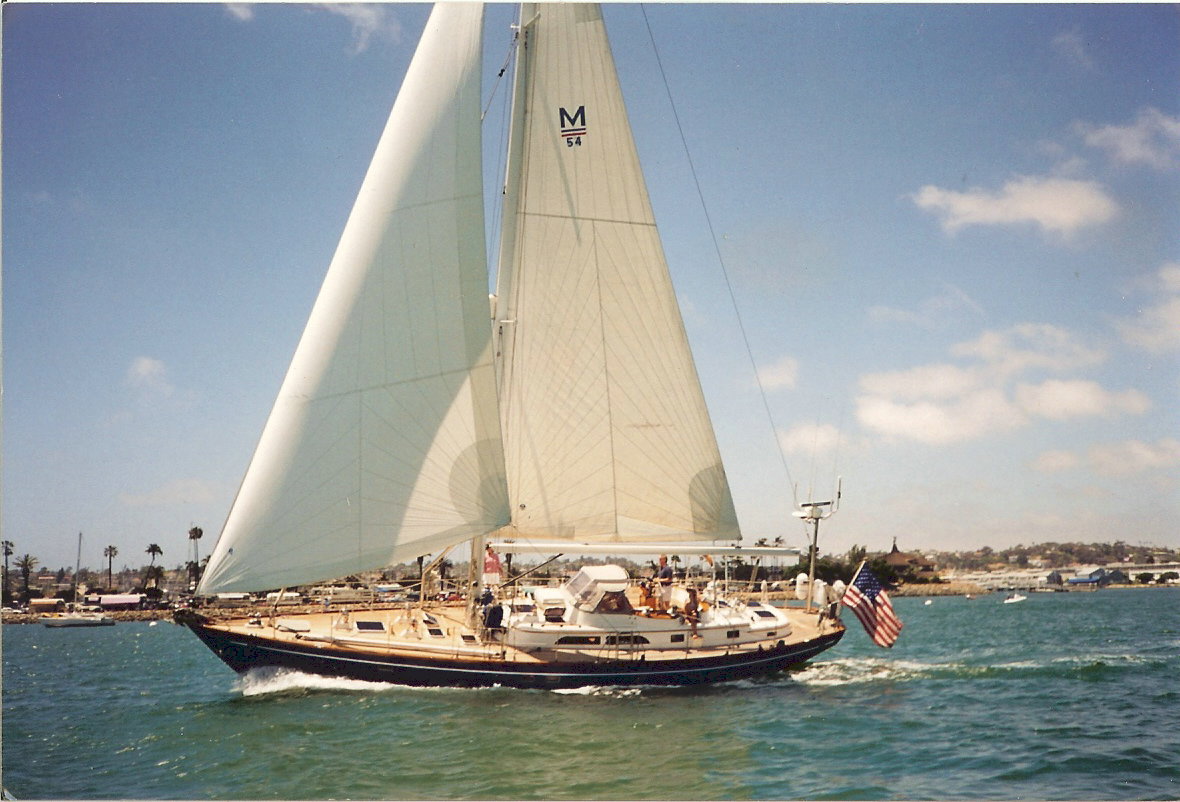 Final Straw sailing on San Diego Bay prior to crossing the Pacific
Website Contents

Passages at sea:

The Voyage along the east coast of Australia to the Whitsunday Islands (2006)

The Voyage from New Zealand to Australia via Melanesia ( 2004)

The Voyage across the Pacific to New Zealand (2002)

The Voyage from San Diego to Mexico (2001)
plus:

Interactive map of the voyage - input N5XX for callsign, hit view and watch the plot of our track

Adventures off the boat:

Shipping Final Straw from Australia to Mexico aboard Dockwise in 2008

On the Brisbane River (2007-2008)

Touring Western Australia and the Outback (2007)

Australian boat refit (March-April 2006)

Touring Tasmania (2006)

Touring Eastern Australia (2005)

Staying in Mooloolaba (November 2004-2005)

New Zealand boat refit (January-March 2004)

Touring New Zealand (2002-2004)

The current position of FINAL STRAW

The current weather at FINAL STRAW's position

Useful Links for Cruisers

Ham radio and e-mail - This is the website for the Winlink organization.

Eastern Pacific weather - This is a current infrared photo from the Goes Western satellite.

Worldwide weather – A good website by the U.S. Navy Meteorology Center with seven day offshore forecasts.

Stormsurf weather - Another great weather site with worldwide data forecast every 6 hours for several days.

Seven Seas Cruising Association - This is the famous international cruiser's association.

Latitude 38 magazine - The leading sail rag on the U.S. West coast...and its free!

On Passage - A great website for worldwide cruising information.

34th Americas Cup - Official website for the next Americas Cup in San Francisco in amazing multihulls.

Websites of our cruising friends who are still out at sea:

Pacific Bliss - Gunther & Lois aboard s/v Pacific Bliss, a Catana 43 from San Diego completed their world circumnavigation.

Ariel - Steve and Gayla aboard s/v Ariel, a Morgan 60 registered in the Cayman Islands, now in Singapore.

Wilhelm - Rob and Natalie aboard s/v Wilhelm, a homebuilt 44' steel cutter from Oakland, California, now in the Caribbean.

plus:

Julia - Larry & Ken completed their world circumnavigation and Larry wrote his book, The Boy Behind the Gate.


Caribbean Sailing - Chuck, an old friend in Texas, has a great website for bareboat charters in the Caribbean.

How to contact us:
E-mail us at home or in port to: N5XX@aol.com
We welcome any comments you may have on this web site.
E-mail us aboard Final Straw at sea by: clicking here to activate our e-mail address.
This has become necessary for spam control.
Please note: E-mail to the boat is via a slow ham radio link. Messages should be short with no attachments. But, we love to hear from you!
Photo acknowledgments may be seen by clicking here.

Last Revised: February 1, 2011
Number of visits to this site since the counter started on August 27, 2001:
website copyrighted 2001-2009 by Clark Straw